Manuel Ramos
Being bicultural, I get to mix up things and who can say that I'm wrong? Día de Los Muertos and Halloween, for example. My wife reminds me that Día de Los Muertos is not a scary holiday - just the opposite, in fact (still, having all those skulls and calaveras around the house, late at night, in the dark - you get the picture). Meanwhile, Halloween has nothing to do with honoring ancestors and a lot to do with pagan rites and ancient stories originally meant to keep children in line. So, in honor of the upcoming worldwide commemoration of and festivities for those who have passed on, and with a bit of spooky thrown in, here's a list of reading that might keep you up at night.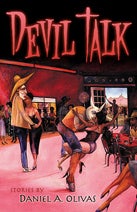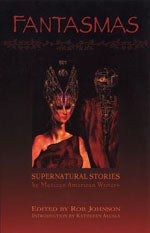 Two short story collections deserve your attention, and both have
Daniel Ol
ivas
. Daniel's collection,
Devil T
a
lk
(Bilingual Press, 2004), is a great mix of off-beat stories that present hard-earned lessons of life or glimpses at an alternative reality. These are the kind of stories that make you go "Oh no, he didn't do that" at the end. Daniel also is featured in
Fantasmas
(Bilingual Press, 2001), edited by
Rob Johnson
with an introduction by
Kathleen Alcalá
. This collection is billed as
Supernatural Stories by
Mexican American Writers
and in addition to Daniel the authors include
Carmen Tafolla, David Rice, Stephen Gutiérrez
, and sixteen others.
The Festival of Bones/El Festival de las Calaveras: A Little-Bitty Book for th
e Day of the Dead
by
Luis San Vincente
(Cinco Puntos Press, 1994) is described by the publisher in this way: "
Mexico's Day of the Dead fascinates kids, whether for its joyful celebration or its unusual traditions. With fantas
tic illustrations and a wild and fanciful poem, San Vicente captures the spirit of this most marvelous holiday. A short and fun essay, directed toward young readers, explains this important Mexican holiday, and the fun things kids can do to join in the festivities."
Cinco Puntos Press also features
El Cucuy! A Bogeyman Cuento in English and Spanish
(2002)by
Joe Hayes
, illustrated by
Honorio Robledo.
All Chicana/o writers have a story in them about
La Llorona
.
Rudolfo Anaya's
contribution is his children's book,
Maya's Children: The Story of La Llorona
(Hyperion, 1997) illustrated by
Maria Baca
, a kinder, gentler tale in which the mother, Maya, does not kill her children but instead loses them to a tricky Señor Tiempo.
On the other, more serious, hand,
Weeping Woman: La Llorona and Other Stories
by
Alma Luz Villanueva
(Bilingual Press, 1994) has been described as painful and disturbing. The stories portray dark images of violence - rape, incest, abuse - but, as noted by
The Library Journal
, "out of the ashes of this cruelty rises a sense of hope."
My own
llorona story can be found here
for those of you who might be interested (originally published in 1986!)
Finally, something unique for La Bloga,
Día De Los Muertos by Kent Harrington
. This is noir fiction - bleak and as gritty as they come. The book has some relevance to La Bloga since Harrington's mother was from Guatemala, but in no way is this book Latino Literature. Even so, it is a very good book for those of us who like this kind of thing.
Bits
The play
September Shoes
was described by the author as "a complex, lyrical piece about the desert, shoes, forgiveness and redemption. We start you in a place where you are grounded, and then we begin to take you on this lyrical and magical journey." Written by
José Cruz González
, it runs through December 17 at the Denver Center Theatre Company. The Denver Post observed, "
September Shoes
is not only the first DCTC play by a Latino playwright since 1999; it will be the first staged by any female director since the same play,
Barrio Babies
. Director
Amy González
(no relation) describes the play as a suspenseful story that is revealed in little increments. 'It's a very personal story that has some deeper and universal resonances,' she said."
Meanwhile, I get to spend most of
October 29
at the
Boulder Public Library
as part of the
Guilty Pleasures - Mystery Writers Day
. I join seven other writers for talks, lunch, a panel, book signings, and general positive reinforcement about the "writer's life." Come by if you get a chance.
Later.